Vocals: Steve Bridges (1975-80), Harry Harrison (1999-2008), Luther Beltz (1980-4, 1999, 2008-present)
Guitar: Montalo (Trevor Taylor) (1973-84, 1999-present)
Bass: Richard Blower (1974-5), Andro Coulton (1975-80), Pete Surgey (1980-3, 1999-present)
Drums: Gra Scoreseby (1973-84, 1999-present)
Background
Edit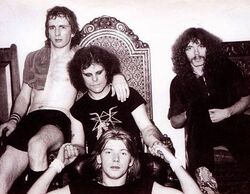 Witchfynde were formed in Derbyshire in 1974 and released
Give 'Em Hell
as their first single in 1979. They were one of the forerunners of
NWOBHM
and probably owe most of their early success to the airplay TV gave them on FRS. They mixed hard rock with prominent use of satanic elements, thereby setting the template for many metal bands of the 80s. AllMusic states:
"Despite displaying a wealth of heavy metal influences, their music was characterized by a strange duality, as prone to embracing downright dumb pub rock workouts as it was to indulging in high-concept songwriting reminiscent of '70s progressive rock."
Exposure during a tour with
Def Leppard
in 1980 helped offset the fact that they were experiencing difficulties with their record label, Rondelet, who withdrew funding. This precipitated Bridges leaving and being replaced by Luther Beltz, who worked with the band on their third LP
Cloak And Dagger
. However, this was released on a small label which subsequently went bankrupt. Their new deal with Mausoleum fared little better, and after a fourth LP,
Lords Of Sin
, they split, only to reform in 1999 due to renewed interest in their work.
Sessions
Edit
Recorded: 1981-01-21. First TX: 13 February 1981. Repeated: 24 April 1981. 'Belfast' available on compilation LP Metal Explosion From The Friday Rock Show (BBC Records).
Give 'Em Hell / Getting Heavy / Belfast / Moon Magic
Ken Garner's In Session Tonight (BBC, 1993, p.314) misspells the names of two band members as 'Pete Surgery' and 'Gray Scoresey' and lists 'Chalky White' as lead vocalist.
Other Shows Played
Edit
External Links
Edit